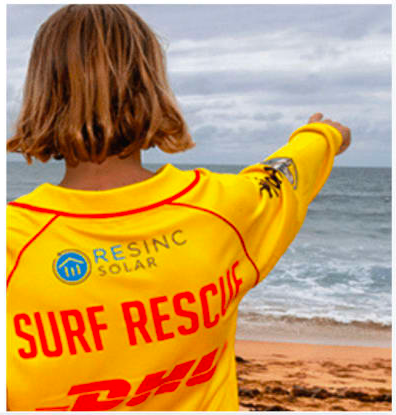 Rookie Lifesavers will be out in force this season supporting their clubs surf patrols while developing their own skills and being mentored to become fully qualified patrolling lifesavers. Thanks to the generous support from Surf Life Saving Central Coast's new sponsor, RESINC Solar, over 400 Rookie Lifesavers from the 15 Central Coast surf clubs will be outfitted with new patrol uniforms and a revamped mentoring program to help develop local surf clubs future Lifesavers. The Rookie Lifesaver Program is a successful tool to retain junior surf lifesaving members between 13- 15 years of age with lifesaving and personal development skills under the supervision of experienced patrol mentors.
Each season we are amazed to hear the heroic rescues made by these capable young lifesavers in training. RESINC Solar is proud to be supporting this program as it is contributing directly to the saving of lives on the Central Coast beaches. Leigh Storr, CEO of the RESINC Group said it was a privilege to support such meaningful program.
RESINC Solar is committed to supporting local surf clubs with the installation of solar projects contributing $1,000 towards surf club solar projects for every installation completed on the Central Coast this summer. If you are looking to invest in solar, please consider using RESINC Solar.

Click HERE for details...